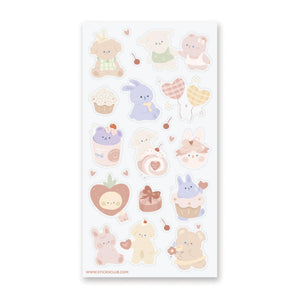 🍰 Friendships between fluffy friends are simply adorable. They are as sweet as cupcakes and heart-shaped chocolate boxes. From passing out valentines to giving out flowers, these charming cuties that are full of love will melt your heart and satisfy any sweet tooth.
- 1 sheet of sticker
- PVC sticker with holo glitter; 6.69" x 3.54"
These stickers are great for notebooks, planners, journals, scrapbook, envelopes, cards, and really ANYWHERE you want. Show us how you use them by tagging @stickyricesisters on Instagram! 😊