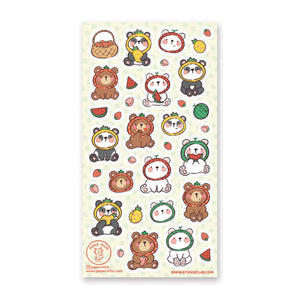 🍓 Sweet and refreshing, fruit is a delicious treat loved by people and animals alike. @papermilio brings us a sheet full of cute little bears, each wearing a different fruit hat and ready to dig into their favorite fruits. Watch them enjoy their sweet snack and be inspired to grab a fruit of your own.
Art by: @papermilio
- 1 sheet of sticker
- Paper sticker; 6.69" x 3.54"
These stickers are great for notebooks, planners, journals, scrapbook, envelopes, cards, and really ANYWHERE you want. Show us how you use them by tagging @stickyricesisters on Instagram! 😊