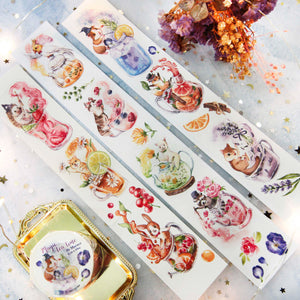 From the artist:
The Spring flowers have come into bloom, all kinds of flower tea are freshly made.
The magical elves from the small studio have also started the magic tea party.
Guinea Pig's dreamy floral tea, Little Bunny's sweet fruit tea, and Kitten's aromatic floral tea.
Let's have a colorful spring together!
- Japanese washi paper (NO release paper)
- 40mm x 10m, rotation length: 70cm
Maruco is a Taiwanese illustrator who likes to draw cute animals with watercolor and colored pencils. She wants to bring warmth to you with her work. Kochin LOVES how realistic her animals are, all the details make them so cute!
Learn more about Maruco Art on Instagram @maruco_art
春天到了百花開,各種花茶/花果茶紛紛出爐
小畫室的魔法小精靈也開啟了魔法茶會囉
天竺鼠的夢幻花茶,小兔兔的甜甜水果茶,小貓咪的花香茶
一起繽紛一整個春天吧!