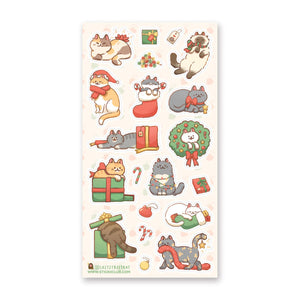 Holicats… Catlidays… We can't come up with a good one, but these playful balls of fur are enjoying the holidays anyways! And they're eager to help you create some holiday magic of your own.
Art by: @loststreetkat
- 1 sheet of paper sticker
- PVC (plastic) sticker; 6.69" x 3.54"
These stickers are great for notebooks, planners, journals, scrapbook, envelopes, cards, and really ANYWHERE you want. Show us how you use them by tagging @stickyricesisters on Instagram! 😊