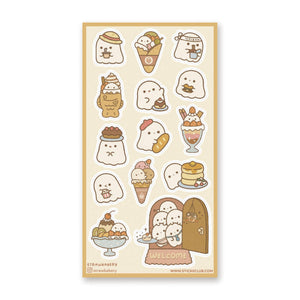 👻 Welcome to Boo's home! This cute ghost by @strawbabery is throwing a sweet party on Halloween night, and you're invited. Boo's squishy cheeks make him irresistibly cute and the best host this fall season.
Art by: @strawbabery
- 1 sheet of sticker
- Matte glitter paper sticker; 6.69" x 3.54"
These stickers are great for notebooks, planners, journals, scrapbook, envelopes, cards, and really ANYWHERE you want. Show us how you use them by tagging @stickyricesisters on Instagram! 😊